Where To Go If You Want To See Cows In Switzerland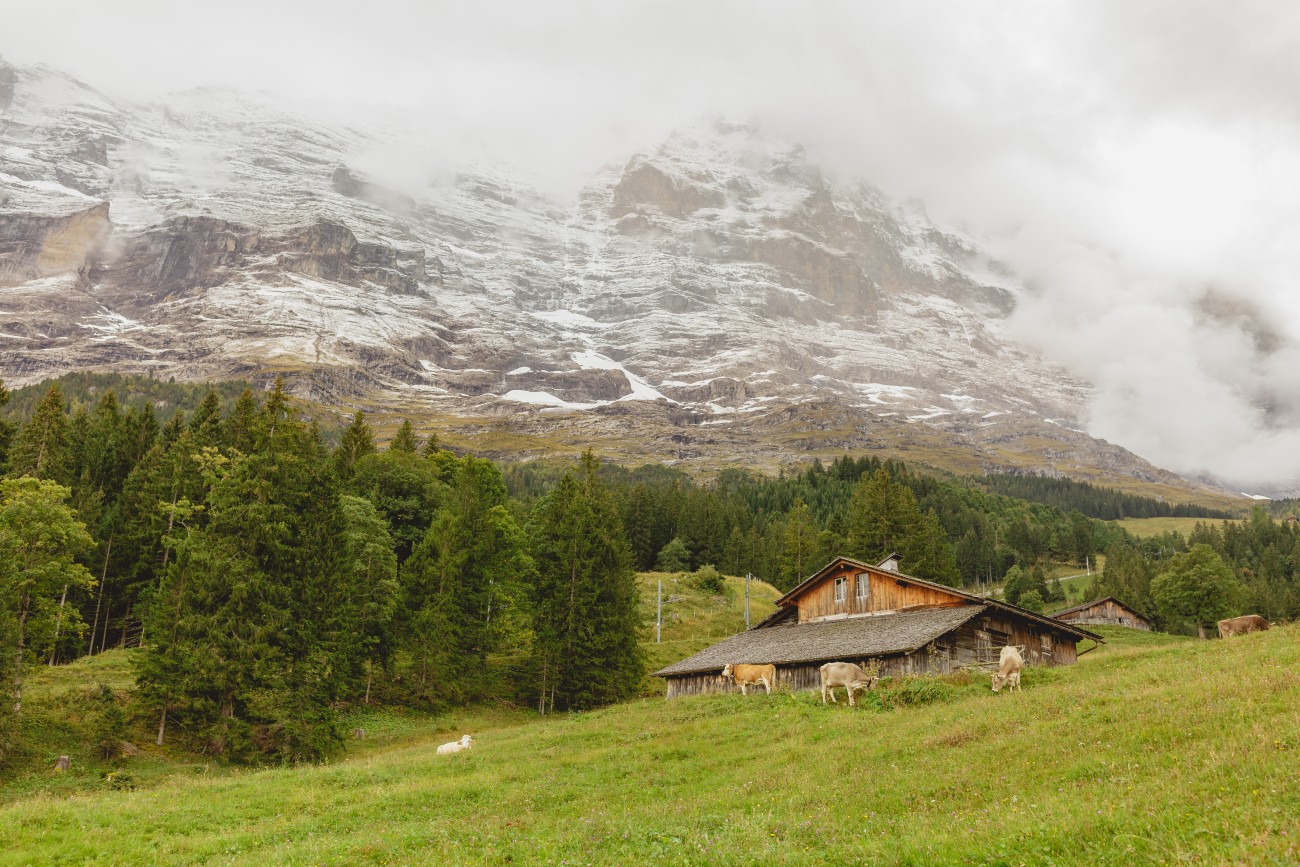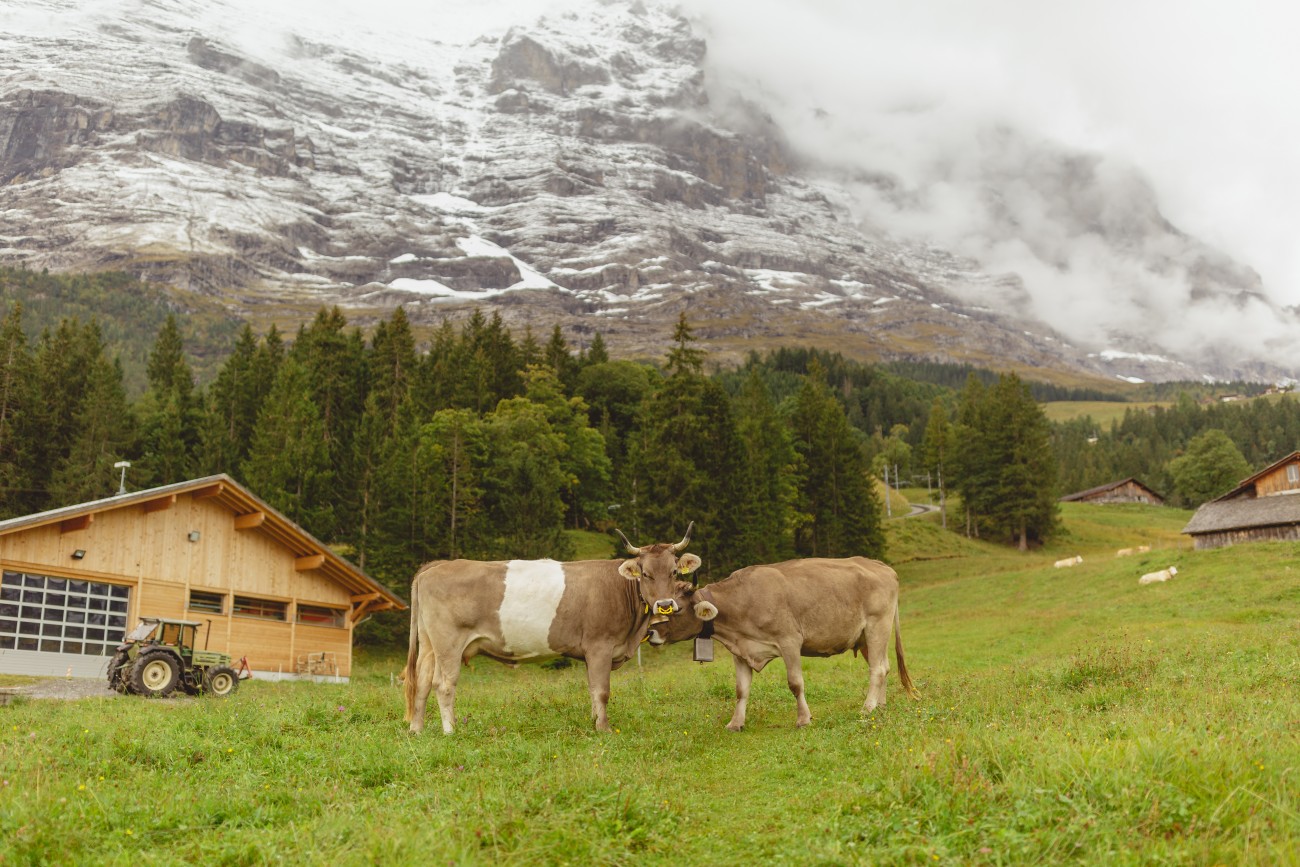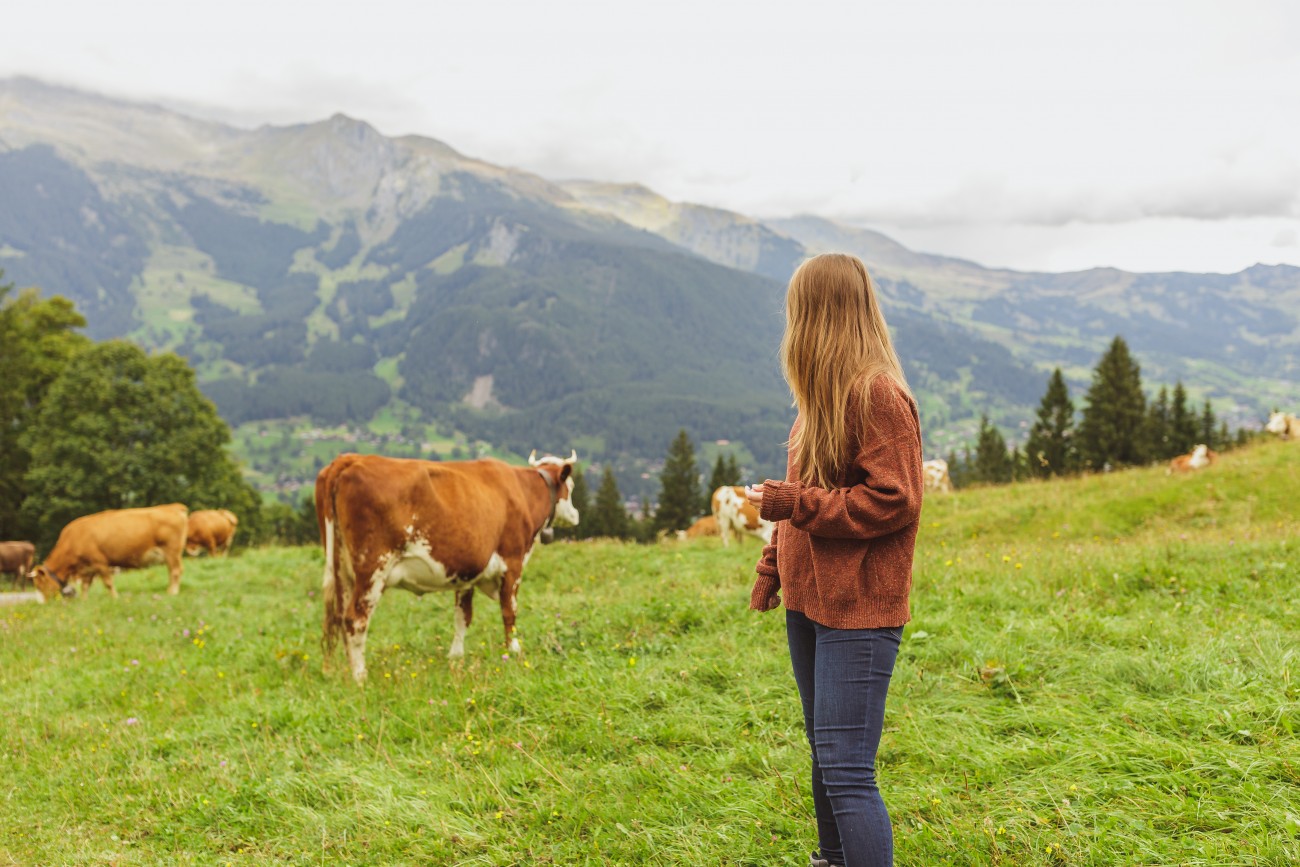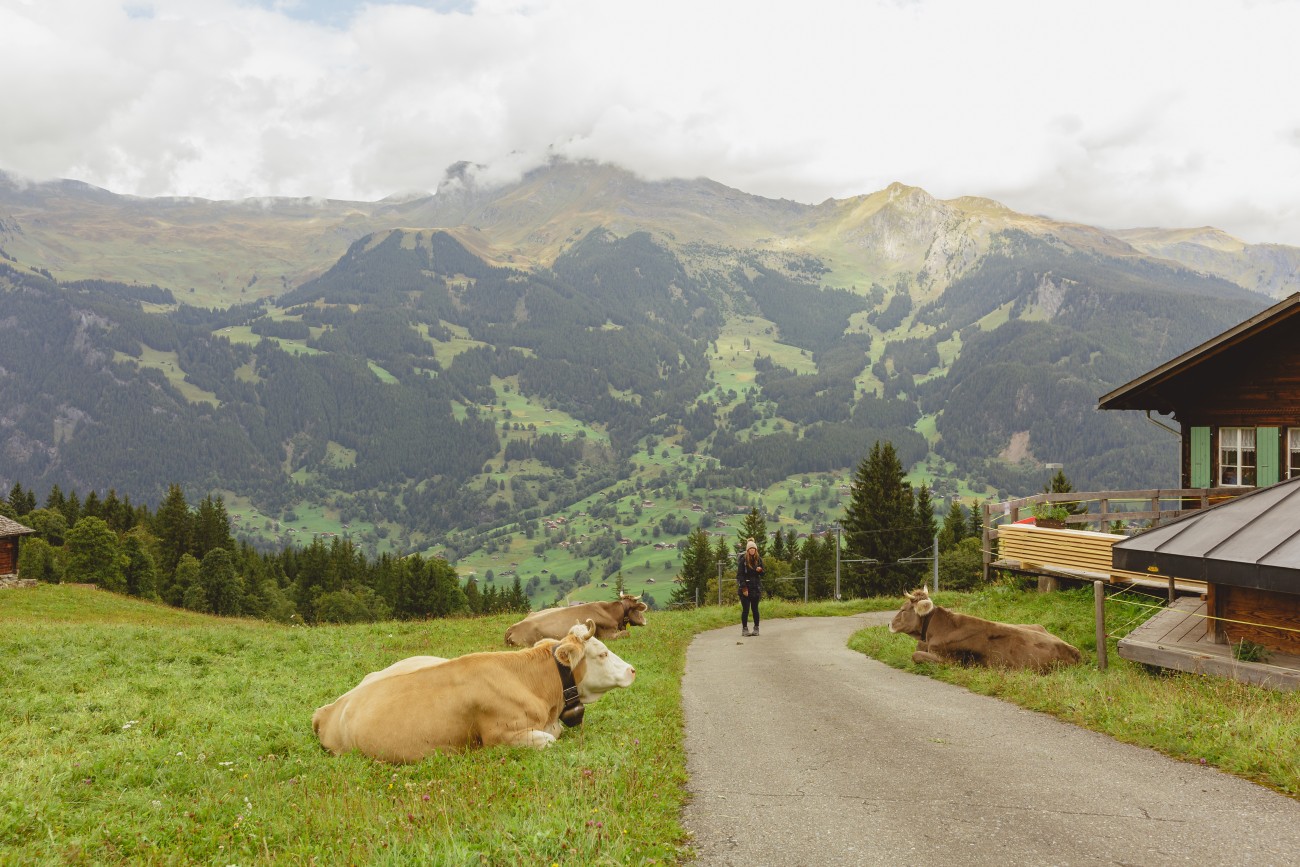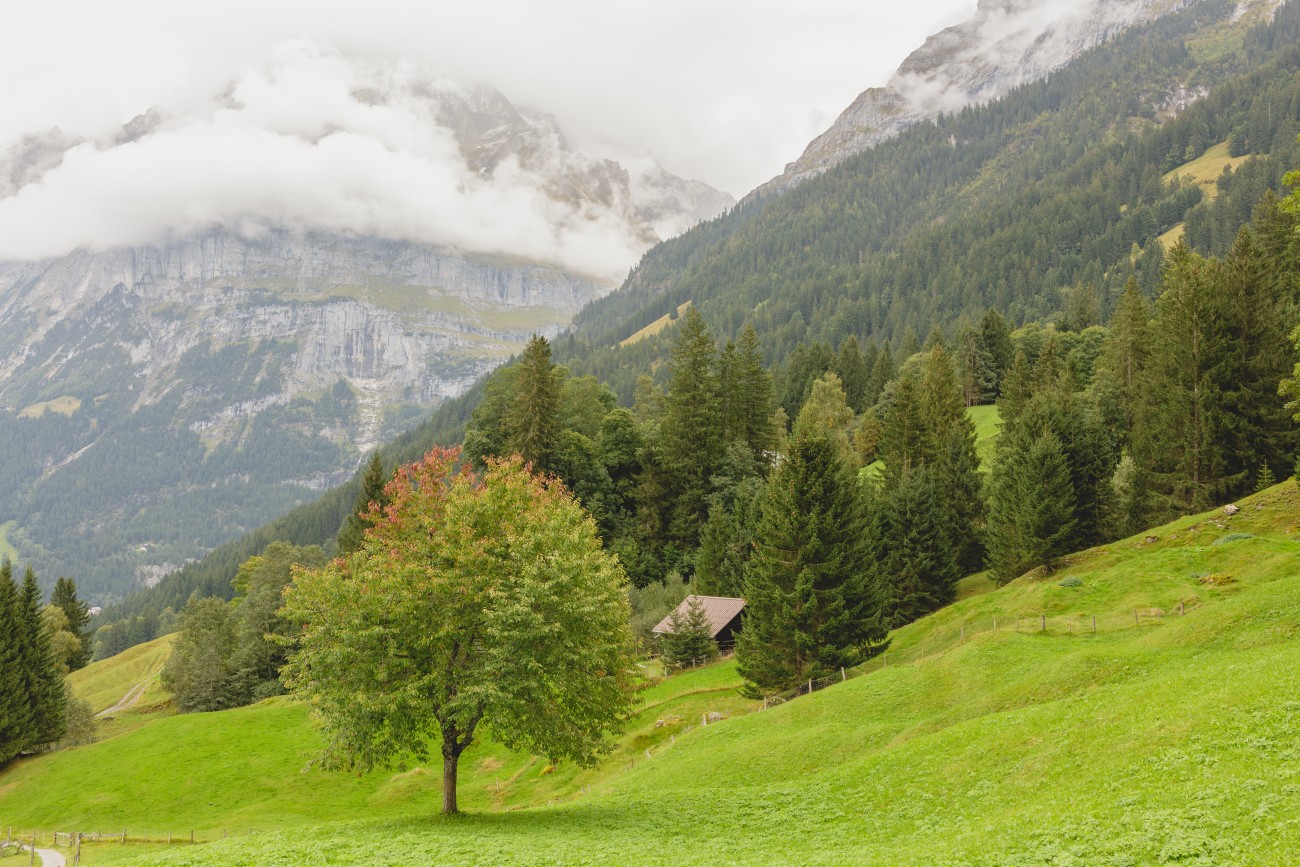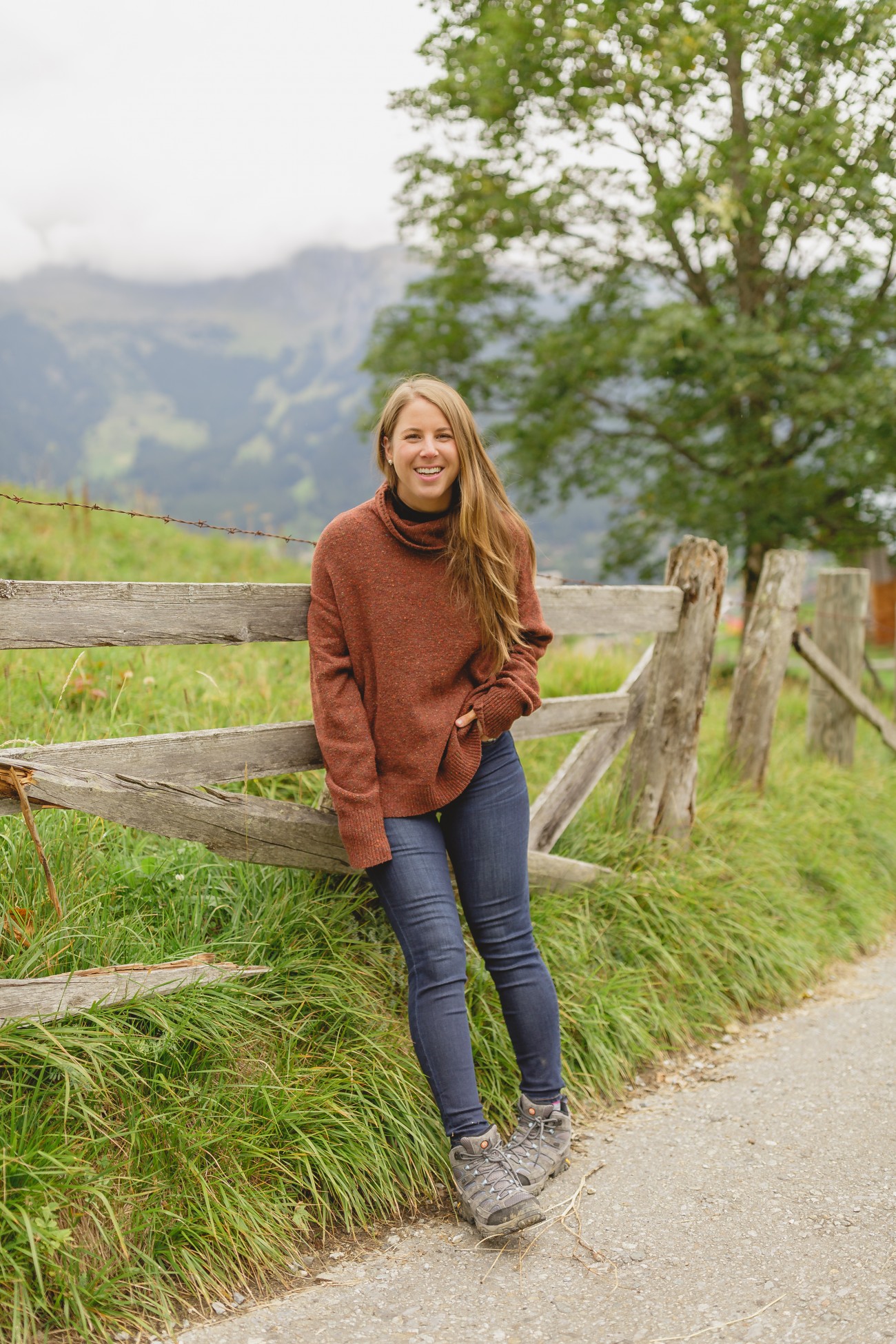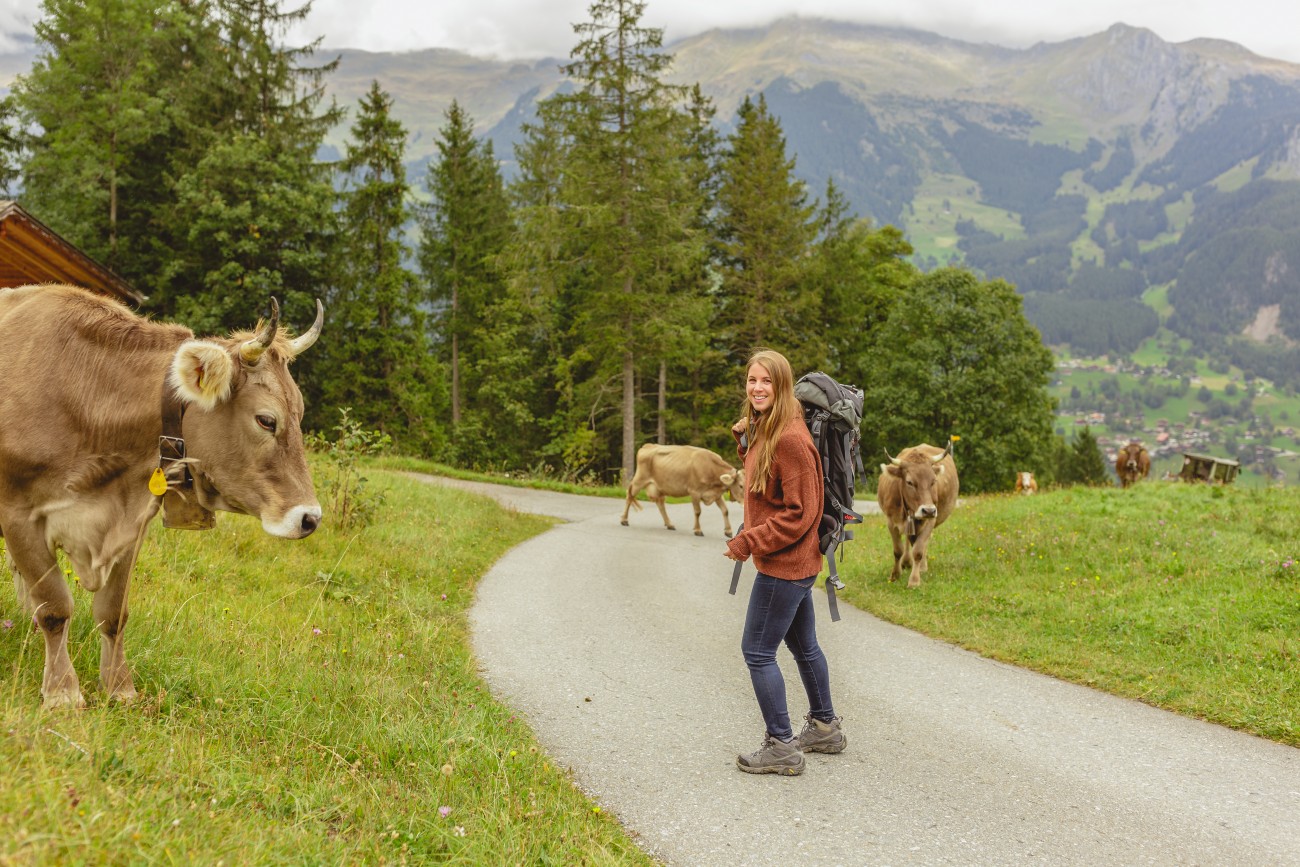 This cow to the left actually "moo-ed" at me to get out of her way…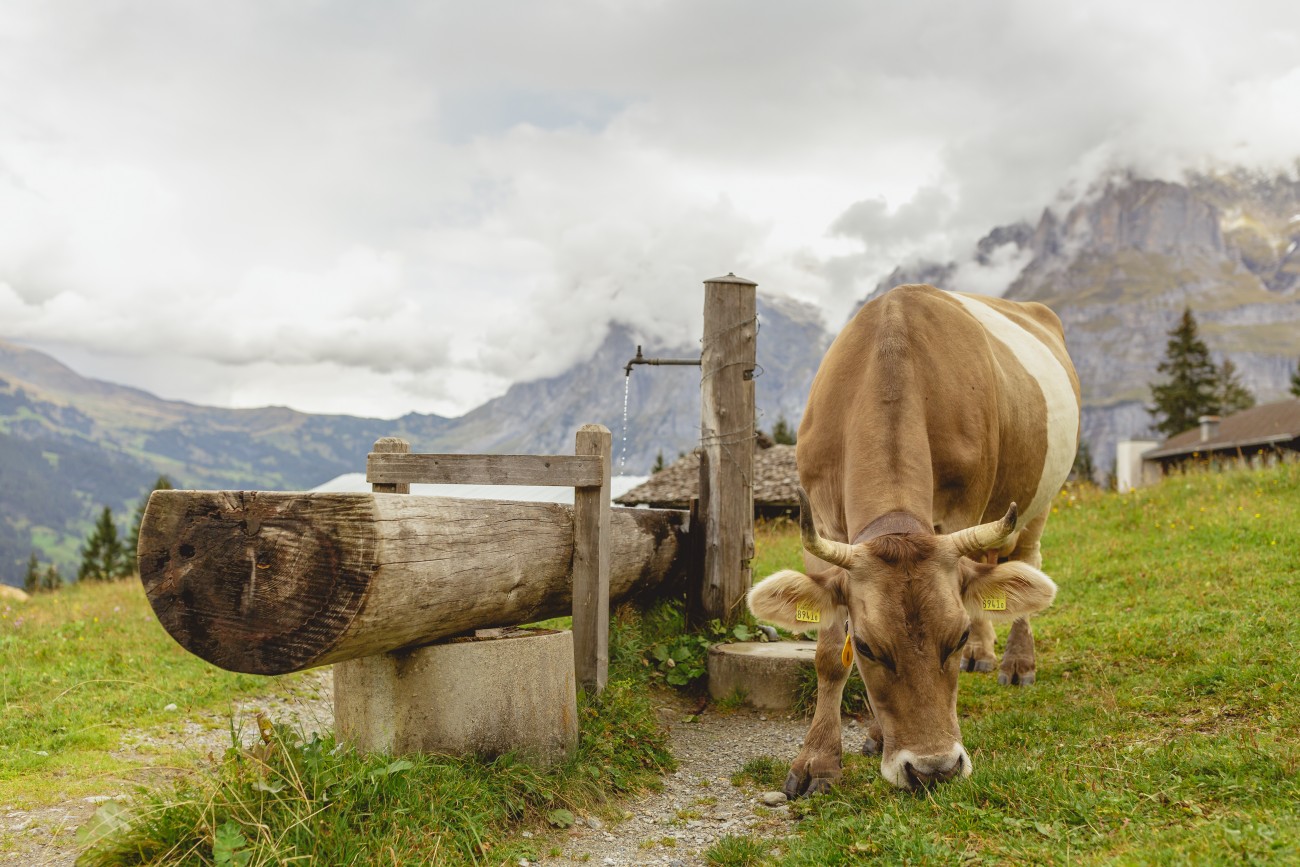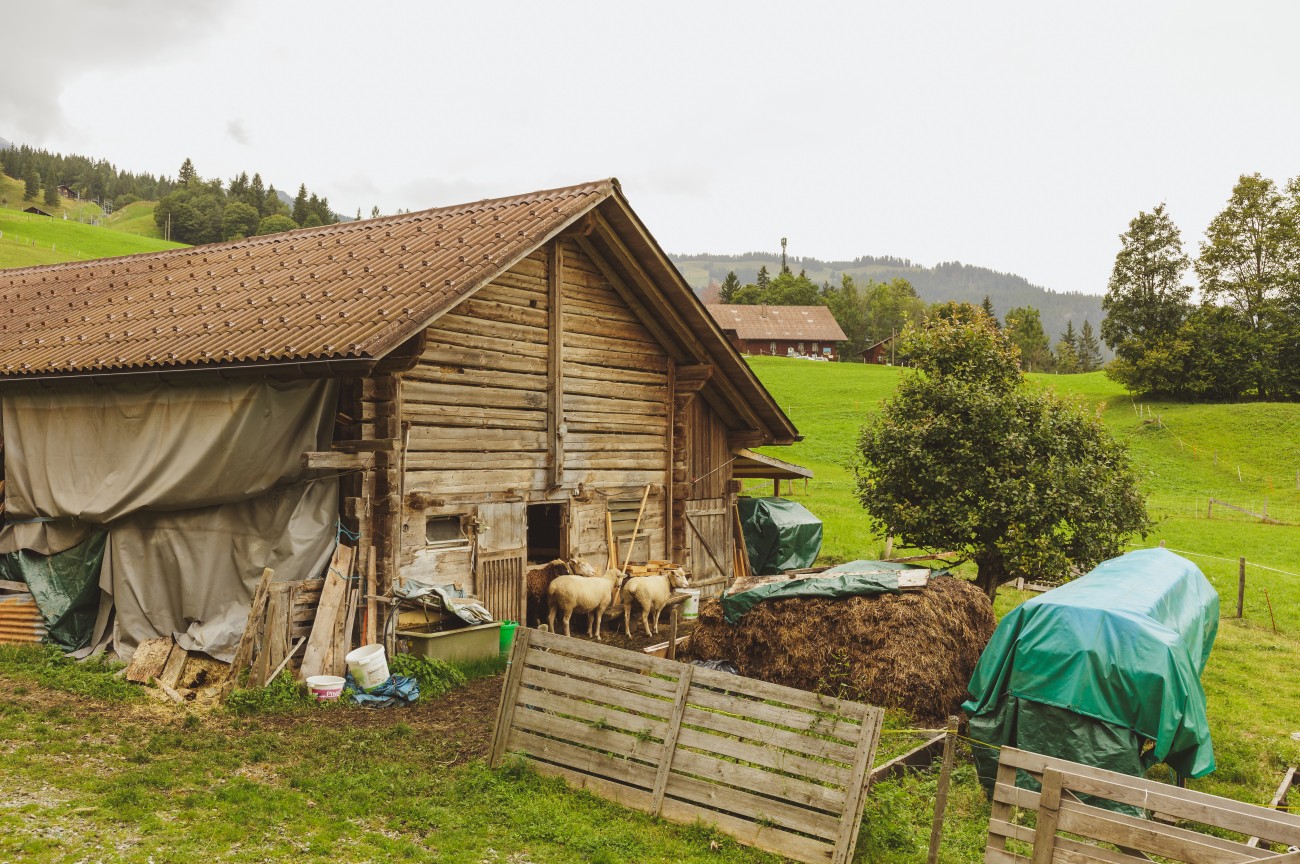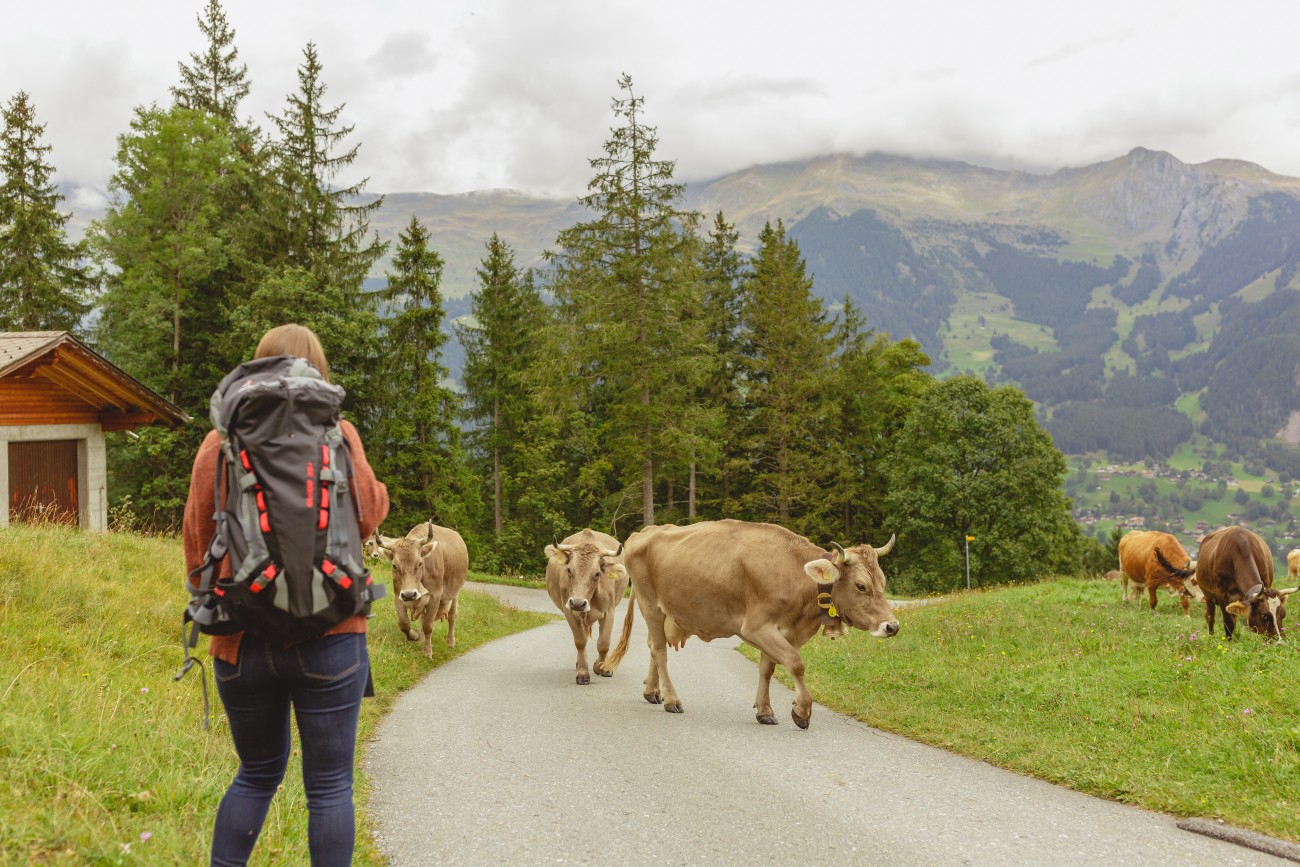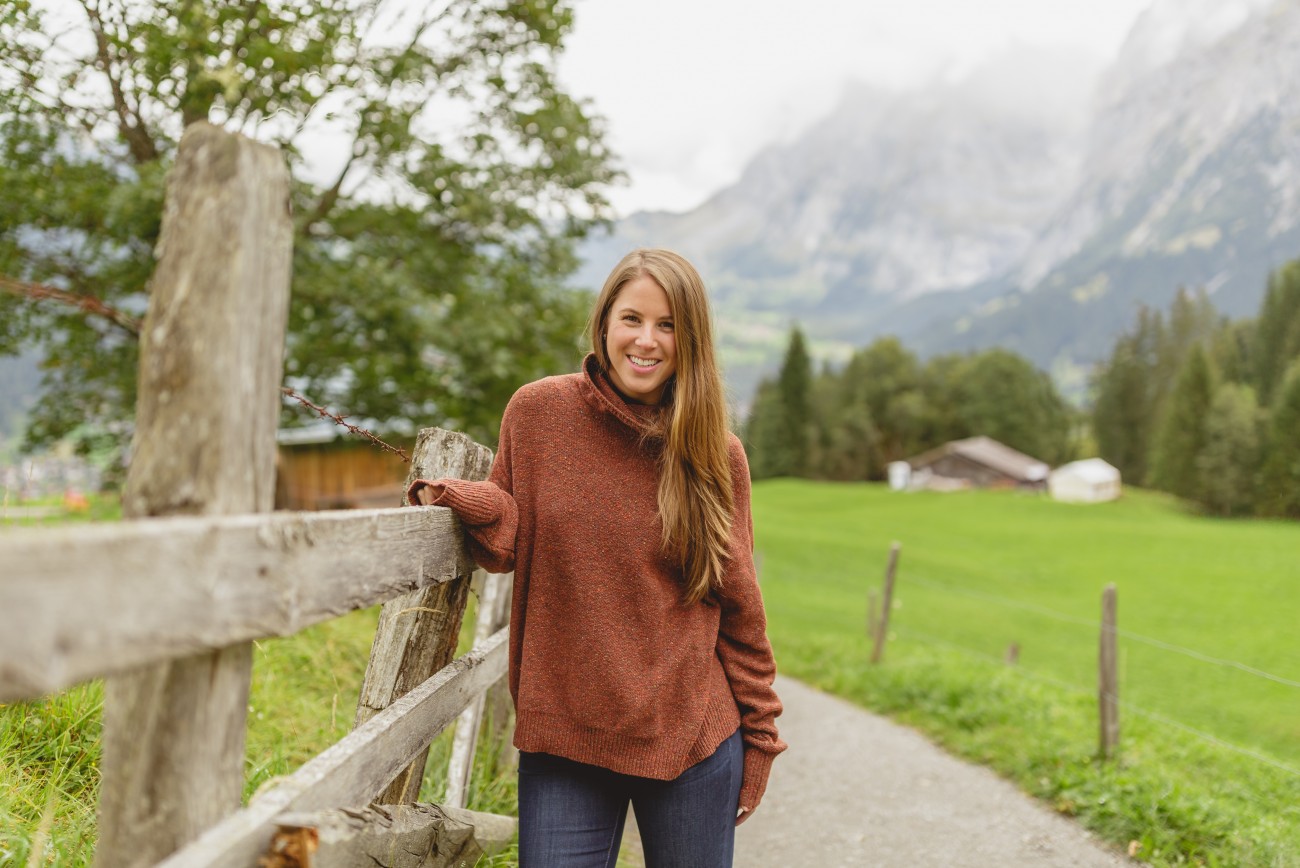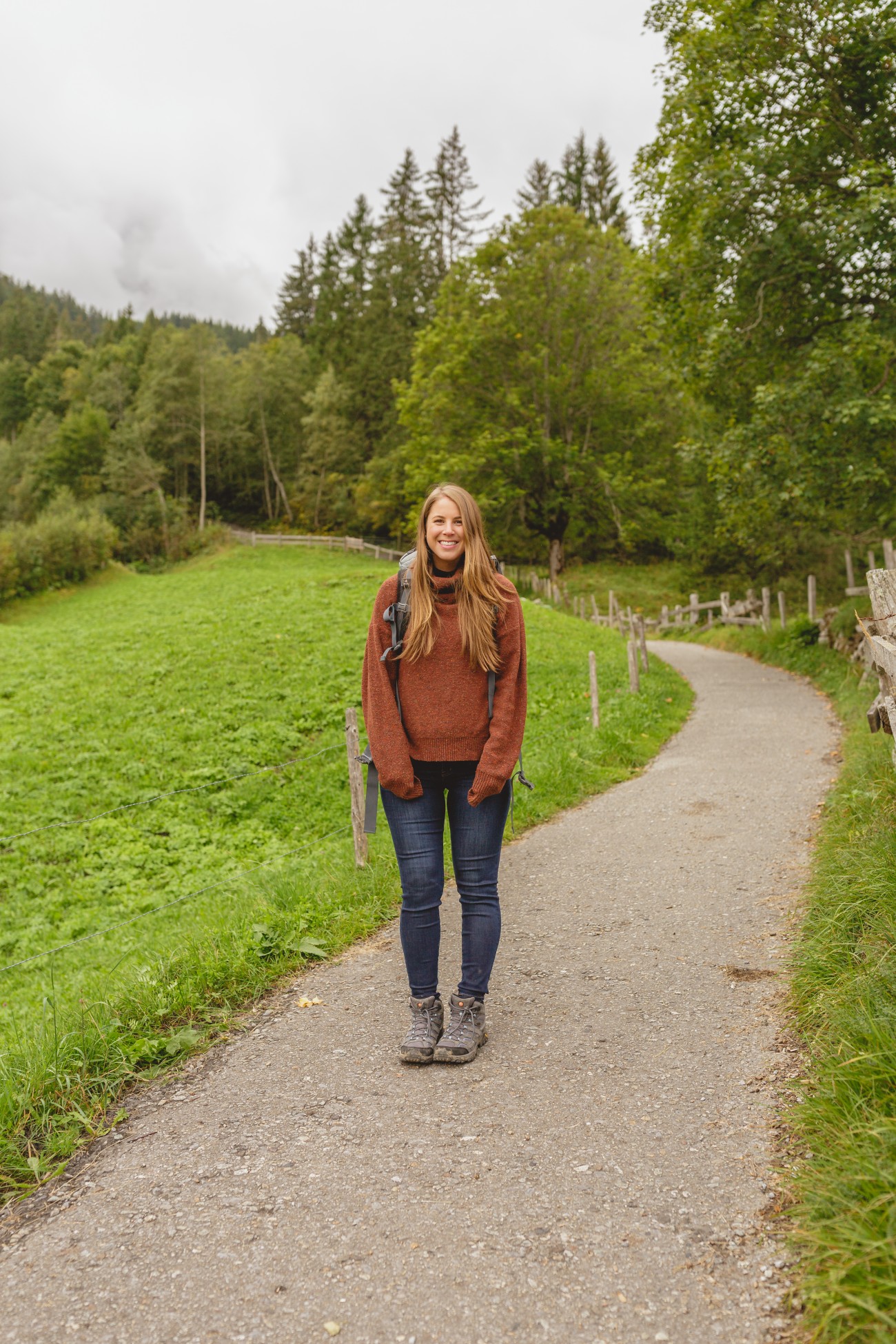 Before going to Switzerland, I had painted a picture in my head of what I expected to see while there. For the most part, I envisioned massive hillside pastures filled with cows overlooking small Swiss towns. Typical.
Outfit: Madewell Jeans, Merrell Boots, TIBI Sweater from Rent the Runway (similar here, here, here and here)
The third day into our trip, I didn't feel satisfied with the number of cows I saw. Let alone wildlife. I became overwhelmed with this mounting desire to be with animals all day, every day, specifically cows. The more animals I could see the better and the number of animals I saw in a given day determined the type of day I was having. I know how bizarre this sounds, Jordan actually thought I was insane, and likely so did anyone watching my Instagram Stories, but stick with me here.
On day three our 'plan' was to have a spontaneous adventure. We took the tram up to Mannlichin in the AM, which is one of the tallest peaks in the Jungfrau Region, and from there, we took a long stroll over to Klein Scheidegg. The hike to Kleine Scheidegg was nice and flat, which was a welcome relief from the previous days we've had. The hike itself was very pretty and worth doing if you're in the area. It took us about three hours to complete the trail since we were in no hurry and wanted to take some photos. Once we arrived, it was about 1 pm and I needed a beer and a snack so we stopped at this small Zimmer on top of a hill right outside of town. While we were finishing up our lunch we had a hard time deciding what to do next. Jordan wanted to continue to explore, while I was ready to head back to Wengen since I was still pretty exhausted from our hike the day before. Nonetheless, we headed to the train station since either way, we needed a ride.
We met a wonderful couple the day before who we happened to run into again on top of Kleine Scheidegg (such a small world!) They had been to Switzerland, in particular, the Jungfrau Region many times and begged us to take the train over the other side of the mountain into Grindelwald. I had Grindelwald on my list but didn't actually think we'd get to it with everything else we had planned. I'm so happy we ended up listening to them though because what happened in the next 15 minutes became one of the best experiences in my life. Yes, you know it's cows.
We caught our train on time, and 15 minutes into our 30 min ride I spotted a pasture in front of us with a few cows – my excitement immediately heightened, but as we got closer I saw that there were hills FILLED with cows. This was literally what I had pictured for over a year.  I quickly turned to Jordan and stressed that we had to get off the train and see the cows. He had no choice but to follow me off. The fact that this train had a stop in the middle of a field was fate, another reason why I love Swiss trains. The hillside with the cows was located in a small town called Brandegg. If you are looking for your picturesque view of Switzerland you must go here.
We spent the next hour + walking around the fields looking at and taking photos of the cows. It was so surreal to see them in these vast pastures overlooking the smaller towns below. These photos don't even do it justice! After we both felt like we had enough, it was time to figure out how we were getting down the mountain. Something we didn't even consider when we got off the train. The next train to Grindelwald was not for another hour or so, and the trail map said it would take about that to walk to Grindlewald, so we stayed true to our day of adventure and continued down the steep slope of the mountain and into Grindelwald. Of course, it took us two hours because we were surrounded by pure beauty and it was hard to take a step without documenting it. We ended up getting into town around 4:30PM ready for another meal!
This particular day is the most memorable day in the twelve days we were on vacation. I'm going to look back years from now and remember just how happy I was in this moment and smile every time!
XO