Basic Beauty Go 2's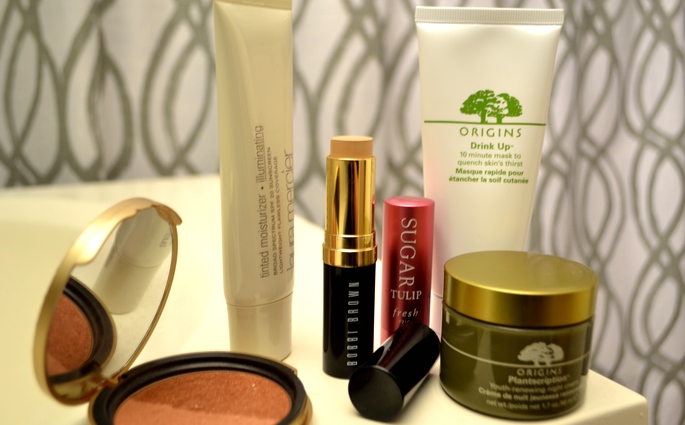 When it comes to my beauty regimen, it is very similar to my fashion style. Simple, yet solid.  I like quality products and the ones I have here are some of the constants that I've had in my make up bag for the last few years – especially the Fresh Sugar lip treatment.
The most recent addition to my bag was this Bobbi Brown Skin Foundation Stick. I've used it a few times and am really liking it so far. I use it to contour on my nose, forehead and cheeks. I also use Laura Mercier's Illuminating tinted moisture every morning, and apply my coverup on top along with the foundation stick. As far as my bronzer goes, I am pretty picky, I love the Too Faced Sun Bunny, I've been using this consistently for years, it goes well with my skin tone and isn't too bronzed where I feel overdone – but just enough to bring my face to life.
My nightly routine lately has been revolving around Origins. When I use their skincare products I feel good about what I'm putting on my face, unlike other products I've used in the past. I use the Drink Up face mask three times a week after the shower. It's to be used on a freshly cleansed face so I've found this routine works best for me. After I take it off I can notice the difference in my face's moisture – I don't even need to put face lotion on. I also use the Platscription anti – aging eye cream before bed. Yes, I am only 25, but I feel it is never too early to start prepping your skin for the years to come. I have a lot of smile lines, and don't expect this cream to rid me of all my lines, but I do wake up looking more refreshed with softer lines around my eyes.