6 Things I've Learned About my Fashion & Beauty Routine From Blogging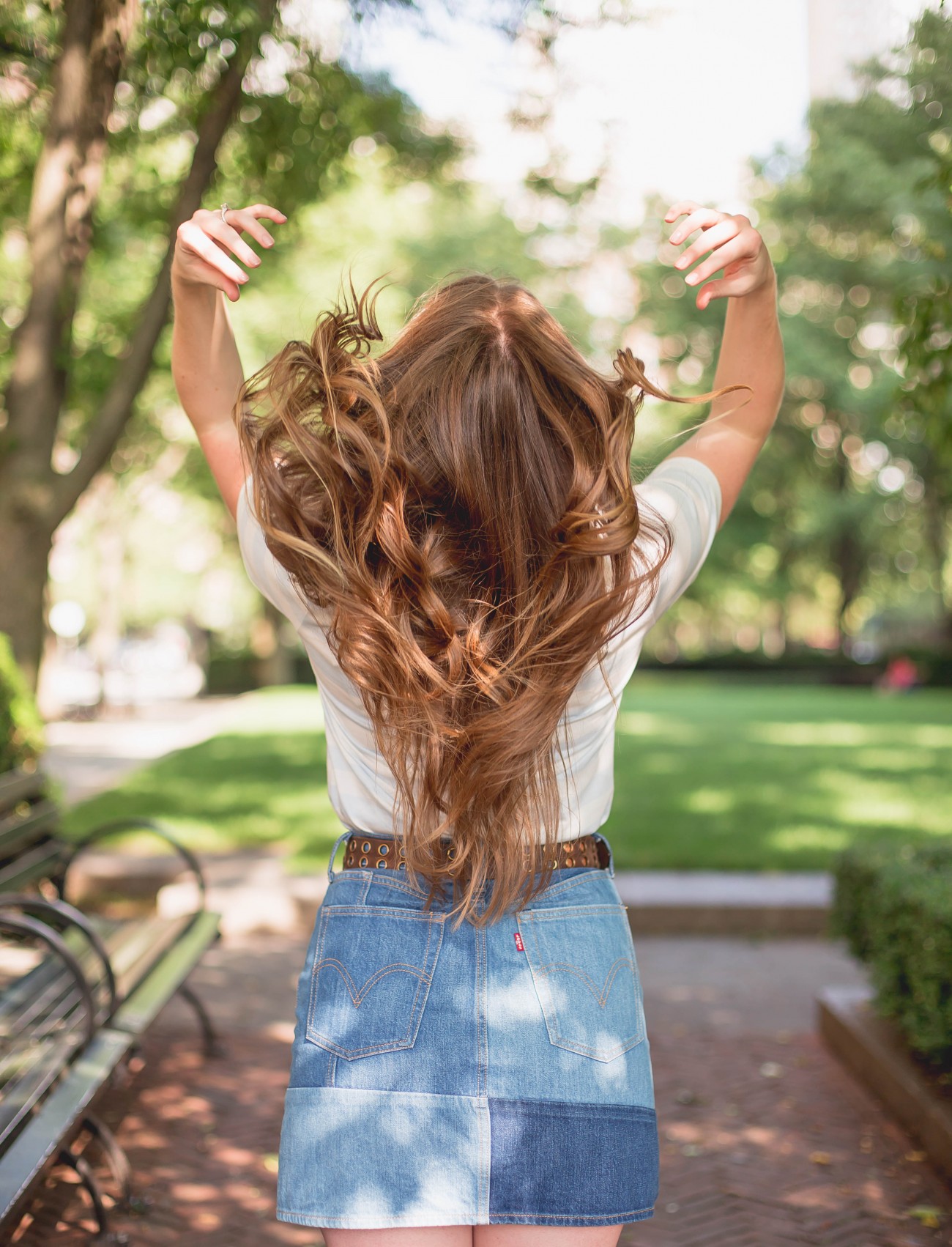 Since starting Vita Brillanti I've tried many different experiments with both beauty and fashion and I've slowly been able to figure out what works best for me in both of those departments.
I've gone from bright blonde hair color, to my natural color, from a normal amount of daily makeup, to less makeup, a bad skincare routine, to one that I now cannot live without, from total mess with no understanding of my own style, to finally realizing which kinds of clothes fit best on my body.
It's taken a long time to get to a routine that I'm comfortable with, but I feel confident that I'm finally moving into the right direction.
Sure, I may find new routine's that work best for me in a couple of years, but right now, I wanted to share with you what is working for me in this moment.
1. Au Naturale + a Pop of Color
My skincare routine (part 3) is a little bit extensive, but when it comes to everyday makeup, I like to keep it minimal. I've tried eye liner, eye shadow etc., but have found that my eyes a just a little bit to small to be packing on the layers, so instead, I've found that less makeup, with a pop of lip color tends to work best on my face. This is not to say that I don't wish I could wear 'va va voom' make up more, because I do – less make up just works best for me.
Morning Makeup: Laura Mercier Tinted Moisturizer in Blush, Bobbi Brown Cheek Palette in Pearl, Sun Bunny Bronzer, Fresh Lip Moisturizer in Berry.
Favorite Lip Colors right now: Bobbi Brown Art Stick in Rich Red, Fresh Sugar Berry , Sephora Cream Lip Satin in Cherry Blossom, and YSL in Dewy Red
2. Stiletto's Are a No-No
Living in NYC has made me hyper- aware of my feet and how much I really value comfortable shoes. No matter where it is I have to venture to, it will involve at least a half mile walk, a few sets of stairs, and dodging many people along the way – swiftness is key in this city.
But, when I first moved here in 2011 I wanted to fit in with the other young professionals, so I thought that in order to do so, I needed to rock the 4″ + stiletto heels. However, 100 packs of bandaids later, I realized I would never be one of those women who can flawlessly rock those types of heels, and that's perfectly fine. Lesson learned, Emily.
Later on though I discovered block heels and wedges which were a total game changer for the tomboy in me. If I could, I would wear cute sneakers everyday, but once in a while I really enjoy the femininity of heels, and block heels like these, these, these and these, or wedges like these, these or these are so easy to walk in, and I never feel like I'm waddling around, or sacrificing comfort.
3. Moisturize Like a Boss
I think it was college when I first started to notice my smile lines, but when it actually came to taking care of my skin in the morning or at night, it was never a priority; I was either in a hurry to get to class, or go to sleep. However, after interning at a fashion/ beauty PR firm I realized that there were a vast amount of amazing products that were designed to help your skin feel beautiful. After that, I got on a major skincare kick and tried almost every different kind of moisturizer, eye cream, and serum I could get my hands on, without breaking the bank. Though what I did not take into consideration was my sensitive skin, so I had faced a new challenge there.
I like to switch up my moisturizers, eye cream and serums often, just to make sure that my skin isn't getting to comfortable with one product. Below is my current routine:
Morning  Moisturizing Routine: First Aid Beauty Cleanser, Priming Moisturizer, Fresh Lip Moisturizer in Berry. On the weekends I like to put coconut oil on my face instead of my light moisturizer.
Nighttime Moisturizing Routine: First Aid Beauty Cleanser, Serum (either this or this),  First Aid Beauty or AVEDA face cream, AVEDA Eye Cream, Mederma for my scars, Fresh Lip Polish and Lip Balm.
4. Protect Thy Hair
There is just no time to be putting chemicals in our hair that will damage our locks. In the past I just used any old shampoo and conditioners that were laying around, or ones that were cheap. However, the majority of those unfortunately had a lot of chemicals in them, and for someone like me, who washes their hair everyday, I needed to make a change. One of my favorite brands is MALIN + GOETZ. I first started using their products last month when we visited 86 Cannon in Charleston. I like their Peppermint Shampoo the best because of the fresh smell, but in the winter I will likely transition over to their Moisturizing Shampoo since my hair always gets dry. I always follow up with their conditioner after my shampoo cycle!
In 2014 I also started the transition from my bright blonde dyed hair color to my natural, dirty blonde color. It took me a couple years to finally get to my natural color but my hair now feels so much healthier than it had when I was dying it all the time. Maybe one day I will switch it up again, but for the time being I'm loving the low maintenance of my natural color.
5. I Love Dresses A Lot More Than I Thought
I remember when my mom used to drop me off at summer camp; I left her wearing the same clothes that she came to pick me up in. I was a total tomboy; no desire to learn about fashion, I loved wearing what I felt most comfortable in, and at that time in my life it was Old Navy mesh shorts and a school t-shirt. While not much has changed in that, I still love to be comfortable, clothing items I consider to be comfortable have certainly changed!
For one, I love soft flowy dresses (like this, this, this and this). And since starting VB, I've found so many brands that carry the exact dresses I love that are equal parts feminine and playful! Some brands I currently really love are:
I also find a ton of brands on Nordstrom and Shopbop that fit my FCF criteria 😉
6. Comfort Is Key
My FCF; Fashion, Comfort and Functionality. Comfort is the one thing I'm never willing to sacrifice with my fashion or beauty routine.